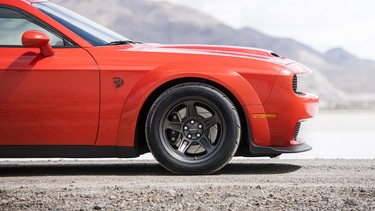 Here's our selection of visual drama for your driveway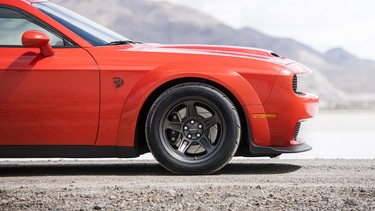 Article content
The great thing about buying an inexpensive t-shirt is the freedom to select just about any colour on the rainbow. Red, yellow, aquamarine — they're all suitable for that scrap of cloth you're donning before heading to the beach.
Article content
A suit and tie, on the other hand, are generally restricted to a socially acceptable medley of blacks and greys from the dour greyscale. There are exceptions, of course. Your author has a couple of fantastic Elie Balleh blazers up in his closet that he refuses to bring on press trips for fear of evoking jealousy deeper than the Marianas Trench, while a guy called Fresh, who serves as tailor for artist The Weeknd, recently regaled media with the fact he made over 18 red suits for the musician's "After Hours" tour. So not all suits are cut from the same cloth (pun firmly intended).
Article content
This phenomenon extends to the car industry. The most popular colours in Canada for the last several years have been some variant of white, grey, or black — which, as pedants will note, aren't really colours at all. The reason for this has many prongs: car companies can be less likely to offer vivid shades on some vehicles lest the colour fall out of fashion and some customers fear the novelty of a bright colour will quickly wear off and leave them sadly looking at a lime green vehicle for the next five years.
Article content
How It Works: Auto paint

Colour Your World: Survey says paint shade is a key buying factor
Which is why we've chosen to assemble a rogue's gallery of vehicles which are offered in vibrant, impactful paint colours. Our list was given a price cap of roughly $50,000 in order to exclude the ruinously expensive paint-to-sample hues being slung by premium manufacturers like Lambo and Audi. All the same, we will give a shout-out to Porsche's tremendous Frozen Berry and Rubystar hues as examples of great colours with equally entertaining names.
Ready? Don your sunglasses and let's dive in.
Jeep Wrangler
A vehicle as flippant and fun as the Jeep Wrangler deserves an interesting paint palette, and designers at Stellantis are more than willing to oblige. This year alone saw the introduction of Reign, a purple hue with a nod to the artist Prince, which was the defacto replacement for a special colour called Tuscadero Pink. Those of us in a certain age bracket will remember that Fonzie's girlfriend on Happy Days was called Pinky Tuscadero. Well done, Jeep.
Article content
One needn't spring for the top trims to enjoy interesting colours on the Wrangler. The entry-level Sport, which starts a tick under $39,000, is available in shades like Sarge Green, Hydro Blue, and Firecracker Red. This writer's personal fave on the base Wrangler is High Velocity, a sort of yellow/green which will look immediately familiar to anyone who's ever had to don a high-vis jacket for safety.
Chevrolet Spark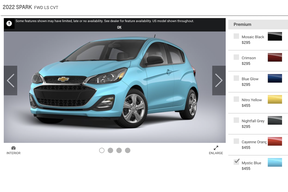 Yes, we know — the little Spark isn't returning for the 2023 model year. In fact, its production was to cease in mid-summer 2022. However, as of this writing there are multiple copies on Chevy dealer lots in the communities surrounding your author's home, so it's being included in this list.
Besides — how can you ignore a vehicle that, for far less than half the average transaction price of a new car this year, offers colours like Mystic Blue and Cayenne Orange? Blue Glow also isn't bad, nor are the dynamic duo of Crimson and Nitro Yellow. While the Spark is small, its appearance can be made to be very outsized.
Article content
Toyota GR86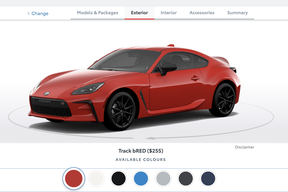 This tremendous sports car won plenty of fans when it was first introduced nearly a decade ago and continues to earn plaudits today in its second generation. Its recipe? Mix together an entertaining chassis, engaging manual transmission, toss in rear-wheel drive and bake at 100 km/h on a racetrack or 25 km/h at your local autocross.
Also part of the manuscript? Colours beyond black and white. The hue of Track bRed is very creatively named, to say nothing of the available Neptune which is a cheeky reference to the deep blue sea. The sole downfall here is that one must pop for the pricier Premium trim to get that colour. If you're into red cars though, go ahead and buy the base Toyota GR86 since Track bRed is available on that trim. And, for the love of Akio, spec a manual transmission.
Article content
Ford Mustang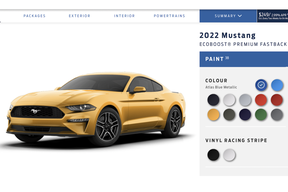 For the better part of 60 years, Ford has been placing brightly coloured Mustang coupes into showrooms and racetracks across the nation. While nothing formal has been announced, you can bet your bottom pony there will be limited-edition paint schemes and trims. Until then, we'll content ourselves with the stock roster of colour options.
And there are plenty. Atlas Blue Metallic, Cyber Orange Metallic Tri-Coat, Rapid Red, Eruption Green — all these are guaranteed to make a dealer's lot look as if someone spilled a bag of Skittles. Add in a selection of vinyl racing stripes and the number of combinations on offer multiplies quickly. The vast majority of these are available on entry-level trims of both the EcoBoost and GT models, meaning one needn't pop for the Premium cars in order to inject a bit of visual interest into one's driveway.
Article content
Dodge Challenger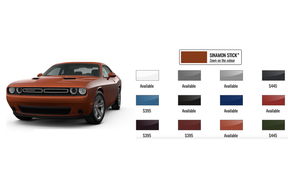 Sticking with two-door American muscle cars, they don't get much more in yer face than a Challenger. As with the Jeep Wrangler, suits at Stellantis have given the marketing team a decent bit of leeway when selecting names for paint colours that are on offer. Witness the likes of TorRed, Frostbite Pearl, and Sinamon Stick as just three examples of a raft of entertaining monikers. Before the gasoline-powered era of Challenger comes to an end in the next few years, someone needs to give these people an award for creative naming.
As a bonus, one needn't pop for a hairy chested V8 in order to unlock all the good colours, though we'd recommend doing so for the exhaust note alone. Even the rental grade SXT base trim, priced at $37,665, is available in many of these eye-popping paints.
Article content
Hyundai Venue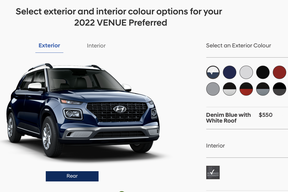 As a lateral-move replacement for the little Accent at the entry-level end of the Hyundai line, the Venue is available in numerous trims (and is even offered with a manual transmission on its base Essential trim). Stepping up to the Preferred trim brings no fewer than 10 colour choices, including a neat inverted two-tone which features a Denim Blue body paired with a white roof. Hyundai does seem to like altering its palette, since all shades of green have vanished for 2022.
Mazda CX-5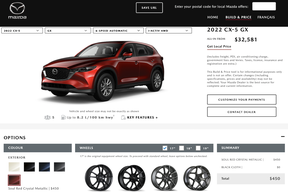 In reality, we could include nearly the entirety of Mazda's Canadian offerings based on the availability of one colour alone: Soul Red Crystal Metallic. The fact that such a small automaker can make this paint shade — a colour which seems as deep and rich as paints on vehicles costing triple the price — on the vast majority of its reasonably-priced catalog beggars belief.
We're profiling the CX-5 in the hero photo above since it stands as one of the brand's most popular models. Sized right and handling like a MX-5 wearing a backpack, the CX-5 already makes a great case for itself as one of the best options in its segment. Soul Red is simply the icing on an already delicious cake.