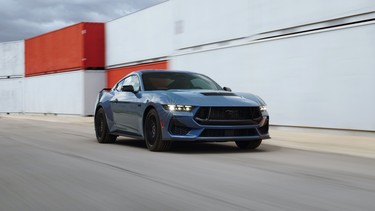 It's got no electrification, no AWD, and the most powerful naturally-aspirated V8 ever in a Mustang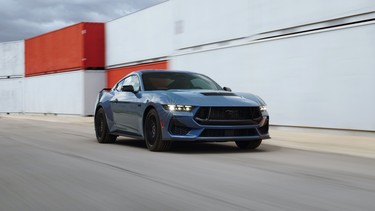 Article content
The 2024 Ford Mustang was the predicted highlight of the 2022 North American International Auto Show in Detroit, with many fans and attendees asking themselves "Will this be the last fully non-electric, pure ICE Mustang?" The answer to that FAQ is, most likely, yes. Is that sad? Depends how you look at it. Here in Detroit, it felt exciting! There was a palpable buzz and lots of big smiles leading up to and at the reveal. Here's why.
Article content
It's been nearly 60 years since the Mustang first bowed, and just a few years since it was reconfigured as an electric SUV under the "Mach-E" moniker. But, thankfully, not too much has changed here in pony-car land. Ford still promises a powerful and engaging coupe and convertible with a couple engine options and a number of build and package configurations. 
Article content
The entry-level trim will use a turbocharged 2.3L four-cylinder EcoBoost engine, while the upper GT models get a naturally-aspirated 5.0L Coyote V8, which Ford says is the most powerful V8 ever fitted to a Mustang. Touted as "the most exhilarating and fun-to-drive [Mustang] yet," the car arrives without performance figures such as horsepower and acceleration, or details regarding fuel economy. But, hey, it's gas-powered, only rear-wheel-drive, has an optional six-speed manual transmission, and looks like a Mustang, so we're chalking it up as a win. 
Article content
"Investing in another generation of Mustang is a big statement at a time when many of our competitors are exiting the business of internal-combustion vehicles," said Jim Farley, Ford's CEO. "Ford, however, is turbocharging its ICE growth plan, adding connected technology, opinionated derivatives, and hybrid options to our most profitable and popular cars – all in the Ford Blue family – on top of investing US$50 billion in electric vehicles through 2026."
Styling for the seventh-gen pony car leans on that of the original 1960s car, with a wide and blunt nose, short rear overhang, and classic upper grille. The hood looks a little less sculpted than the outgoing model, and the rear wheels even wider-set. LED taillights, meanwhile, are configured in the tri-bar style, and there's also a redesigned rear diffuser for added aerodynamic balance. Ford says the roofline takes into account those who will be stepping into the driver's seat wearing a helmet (or just have really big heads). There's also more space for legs beneath the steering wheel, which now has a flat bottom.  
Article content
The cockpit has been remodelled and "inspired by fighter jets," and now includes a curved 12.4-inch instrument cluster that can be ordered to blend seamlessly into the 13.2-inch centre stack screen, bumping air vents down below the display from their former position above. There's also an option to add a wireless charging pad to the stack, an optional B&O sound system, and Ford's Power-Up technology that allows for over-the-air updates as standard. 
The cluster displays realistic animated designs and drive-mode visuals built out by video-game-design company Unreal Engine, opening with a modern copper default colour scheme it shares with the Mach-E, but that's ultimately customizable to different options. Drive modes for the 2024 model year include Normal, Sport, Slippery, Drag, Track, and a custom setting with space for six personalized profiles. 
Article content
In anticipation of enthusiasts and racers installing cameras up top in the interior, Ford smartly repositioned some USB chargers above the cockpit. And it did something of a button cull as well, with designers saying their research suggested button integration into the digital display was popular with Millennials, Gen-Z, and traditional Mustang drivers, by which we assume they mean Baby Boomers. In other words, less pushy-pushy, more swipey-swipey. 
Generation Gap: Ranking each and every Ford Mustang generation

Last Call: Dodge details the 2023 Charger and Challenger
Seats come standard in micro-suede cloth with vinyl inserts and seat backs, while upgrading to Premium models unlocks accent stitching across the panel and doors. EcoBoost models contain leather upholstery in a number of colours, GT models get seat inserts, and higher series models come with a leather steering wheel, perforated seats, and customizable coloured accent stitching to match striping on the seatbelts. 
Article content
Down next to the driver's seatbelt is another new feature, a Performance Electronic Parking Brake designed to help novice drivers pull off the tranquil art known as "drifting." Put that in the 'cool new stuff' drawer along with the Remote Rev feature that allows the engine to be revved from outside the car using the key fob. 
The 2024 Mustang will come with 11 exterior paint choices, including the new Vapor Blue and Yellow Splash, plus a number of new stripe colours and options. The Brembo brake calipers that sit behind the all-new alloy wheels (17 inches standard for the EcoBoost, and 19 inches for the GT with a 20-inch option) can also be selected in one of three colours. Building on the Mach-E's colours, a new Bronze Design Series appearance package available on all models adds Sinister Bronze alloy wheels with bronze badges. 
Article content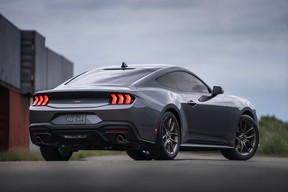 Ford is still holding its performance figures like horsepower, acceleration, and fuel economy close to its chest, but the Blue Oval has confirmed that "fourth-generation 5.0L is set to deliver the most naturally aspirated horsepower of any Mustang GT thanks to an innovative dual air intake box and dual-throttle body design, that helps minimize induction loss by enabling higher air flow rates." So, there's that, plus the fact that they've kept the standard transmission around, making it available on both the EcoBoost and V8 models. How could they not for what might be the final gas-powered pony? 
Those looking to track their Mustang will probably consider the Performance Pack, which brings a front tower brace, Torsen limited-slip diff, and optional Recaro seats, performance exhaust, MagneRide active suspension, wider rear wheels, and bigger brakes. Lastly, the GT Performance Pack will keep things cooler on track day with an auxiliary engine oil cooler and brake ducts.  
The all-new, all-gas Mustang goes on sale next summer (2023) and will be built at Ford's Flat Rock Assembly Plant in Flat Rock, Michigan.