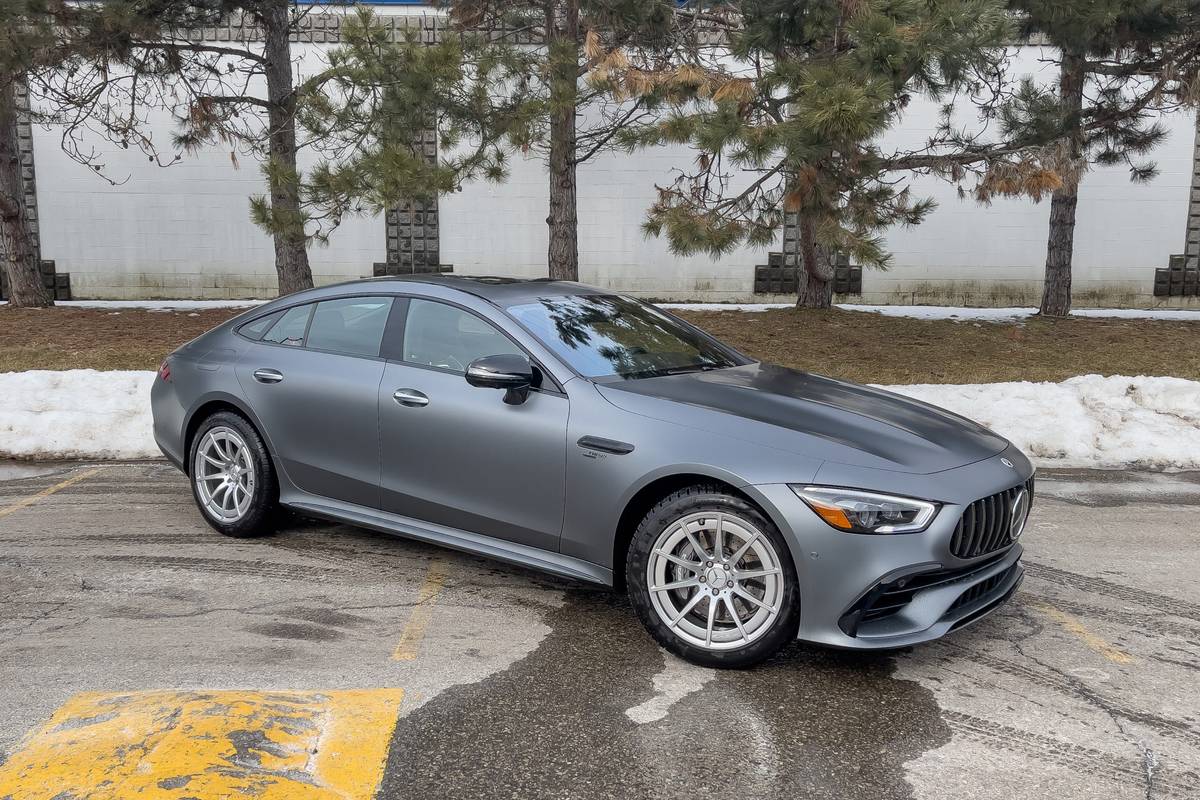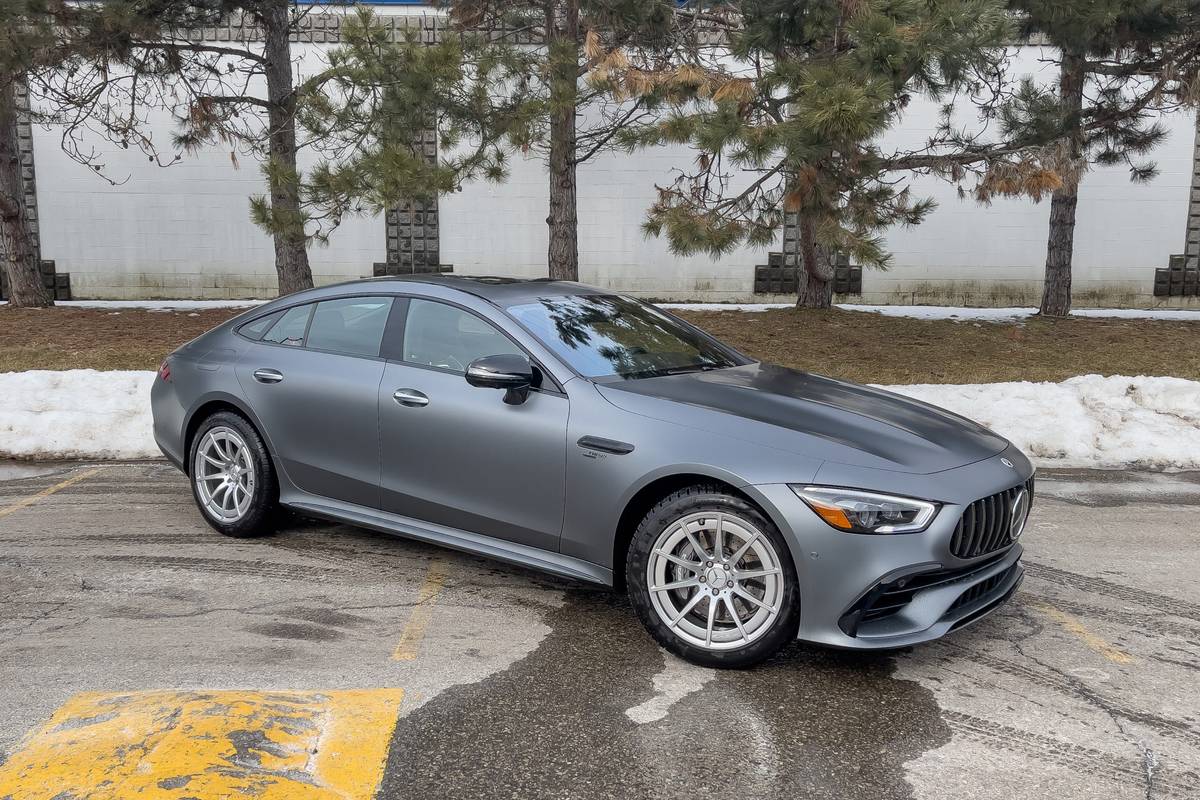 2022 Mercedes-AMG GT53 4-Door | Cars.com photo by Aaron Bragman
If you're a shopper who wants a car rather than an SUV, you're already marching to the beat of your own drum. If you want the sleek sportiness of a performance coupe, but with the pampering practicality of a luxury sedan … plus you're willing to pay six figures for the privilege, you're already out of step with most of America. Well, the niche-filling Mercedes-AMG GT53 4-Door may be just your speed.
Related: 2022 Mercedes-AMG GT53 4-Door Review: A Stylish Compromise
This so-called four-door coupe excels in many areas: It's fancy, fun to drive and tech-laden. On the other hand, it's also a comfort compromise, not as high-performance as you might hope, and some of those high-tech functions can be a bit glitchy — so you need to consider whether you're getting enough for what you're giving up.
For our full take, be sure to consult Cars.com reviewer Aaron Bragman's comprehensive critique via the related link above — but for a rapid-fire rundown of the pros and cons, keep reading.
Here are six things we like (and six things we'd spike) about the 2022 Mercedes-AMG GT53 4-Door:
Things We Like
1. Sassy But Classy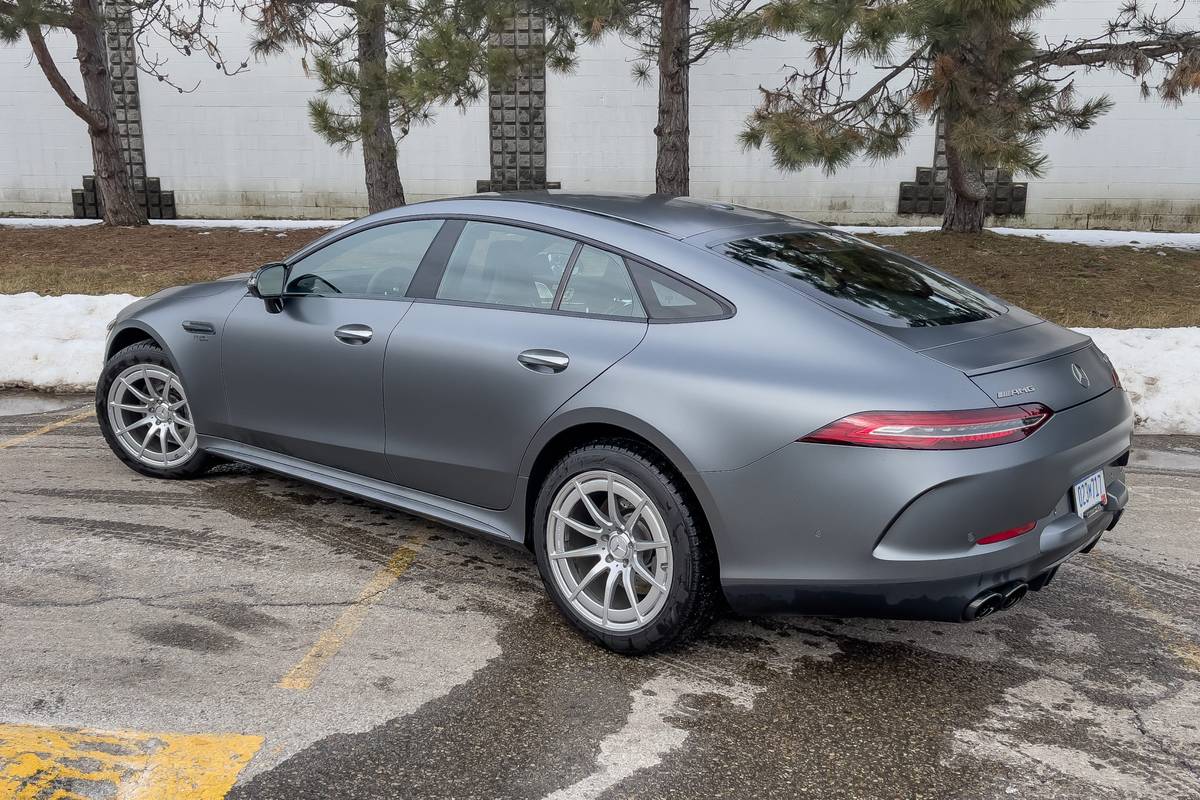 2022 Mercedes-AMG GT53 4-Door | Cars.com photo by Aaron Bragman
The GT53's turbocharged 3.0-liter inline-sixr, mild-hybrid boosted engine puts out 429 horsepower and 389 pounds-feet of torque channeled through a nine-speed twin-clutch automatic transmission. All that translates to track-tastic acceleration set to a sport-tuned soundtrack with street-legal civility.
2. Cruise Your Own Adventure
Adjustable transmission settings offer a variety of driving experiences, from luxurious weekend tourer to aggressive country-road carver. It excels at the former and can be a bit sloppy at the latter — but at least you've got a range of options to satisfy most any whim behind the wheel.
3. Cabin Class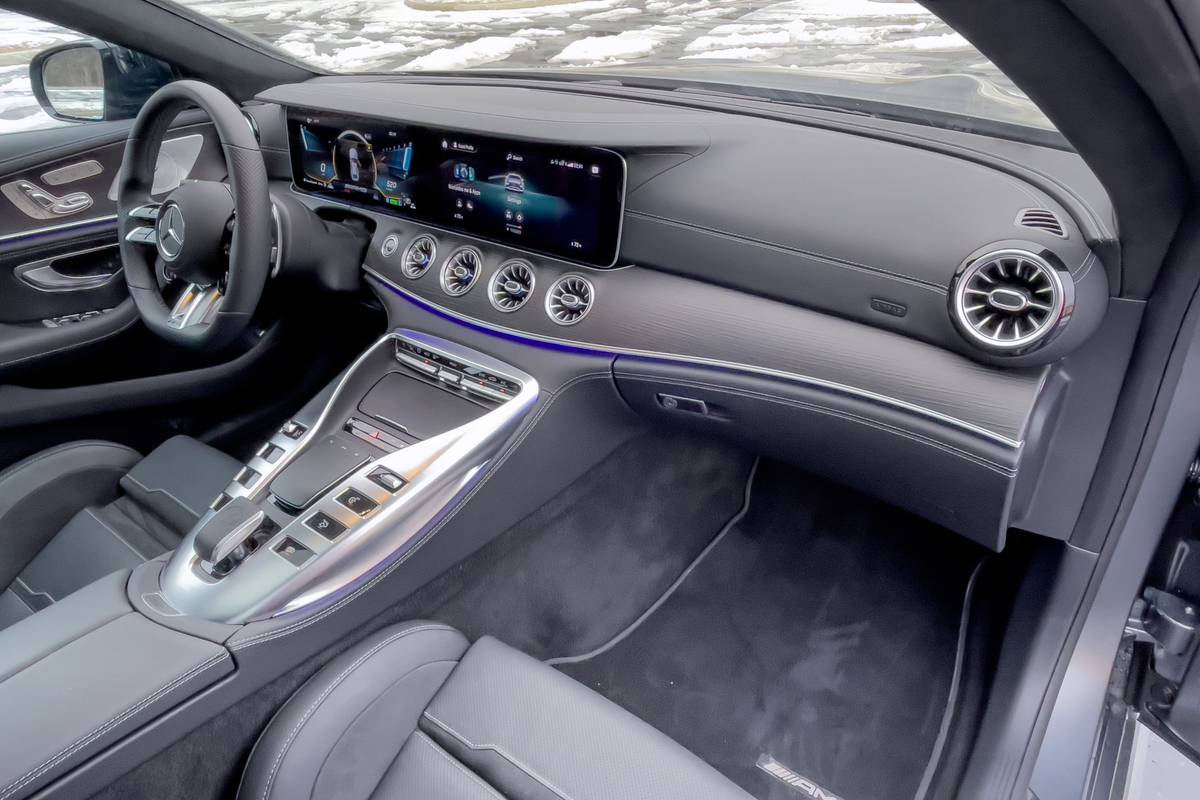 2022 Mercedes-AMG GT53 4-Door | Cars.com photo by Aaron Bragman
The cabin sure has class — particularly of the E-Class and CLS varieties. The Mercedes-Benz fam shares "the beautiful sweep of the dash, door panels and the instrumentation," Bragman notes in his review. Racy AMG styling cues, meanwhile, include vivid red seat belts, sport seats, a performance steering wheel with auxiliary controls and a unique chunky center console.
4. Attractive Infotainment
The displays of the latest incarnation of Mercedes' MBUX multimedia system are large, crisp, detailed, customizable and (once you muddle your way to familiarity) user-friendly.
5. Competitive on Cost
The GT53 4-Door starts at just under $104,000, including a destination charge. That's right in the ballpark with rival super sedans from the likes of Audi, BMW, Maserati and Porsche.
6. It's Good for Who It's Good for
Once you've read all of the above and all of the below, and you still think this is the car for you … this is the car for you. You know what you want and you're not afraid to give up some of this to get a bit of that: function for form, comfort for capability. It's a compromise car and you're cool with it.
More From Cars.com:
Things We Don't
1. Coupe Bedeviled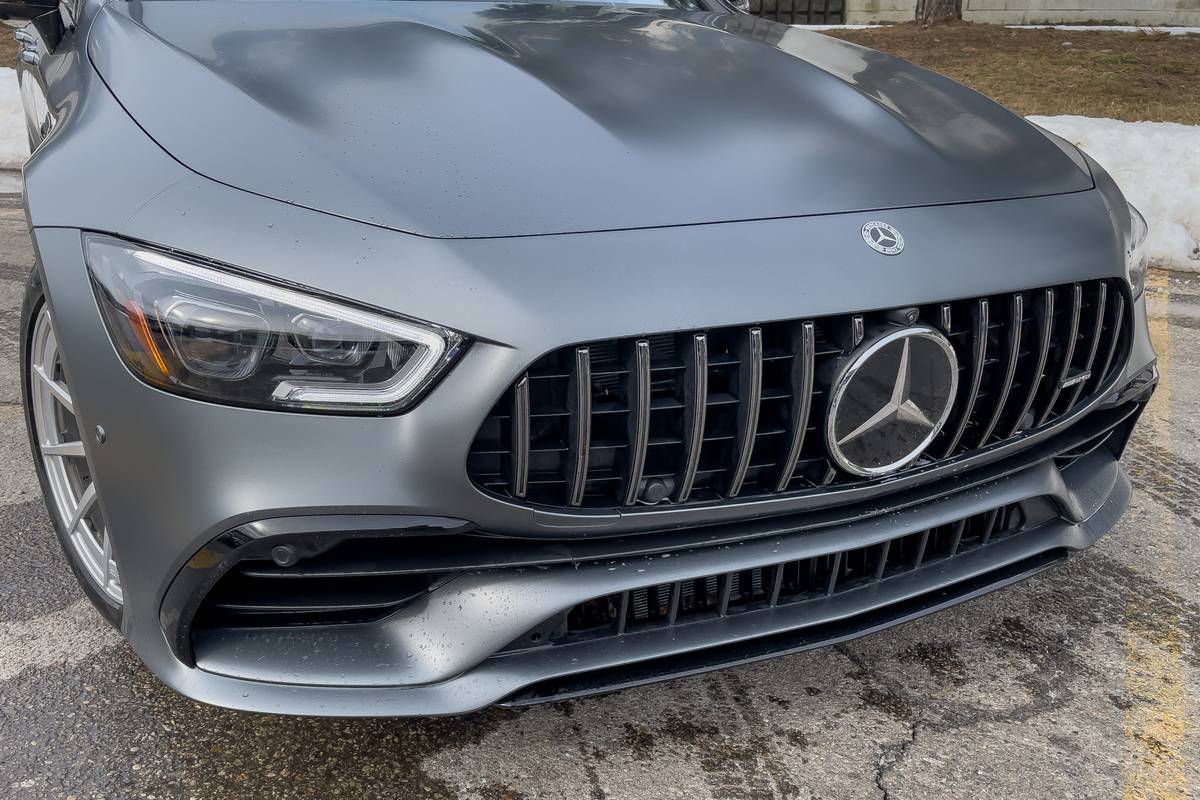 2022 Mercedes-AMG GT53 4-Door | Cars.com photo by Aaron Bragman
The GT53 "coupe" boasts all the doors of the sedan body style and few of the advantages. Want ample headroom? Head another direction. Room to stretch your legs? Expand your search. Outward visibility? Look elsewhere. Quiet cabin? This doesn't sound like a good choice for you.
2. Not a Perfect Fit
Like that time Chris Farley ripped David Spade's sport jacket apart at the seams in "Tommy Boy," the GT53 just has too much heft for slim-cut exterior styling. See Mercedes' CLS or the recently restyled Porsche Panamera for better examples of four-door husky boys rocking a well-tailored two-door drip.
3. Standard Wheels Are Substandard
Be sure to upgrade the 20- or 21-inch wheels if you value visual harmony. The standard 19-inch wheels look "decidedly undersized" to Bragman's eye.
4. More for Showin' Than for Goin'
Like those dudes who never played scholastic sports then become dumbbell-dropping gym rats during their dad days, the GT53 isn't nearly as athletic as it would like you to think it is. In other words: Feel free to flex your AMG-amped muscle for the cul-de-sac crowd, but don't expect to be pole-sitter at the track.
5. Control Issues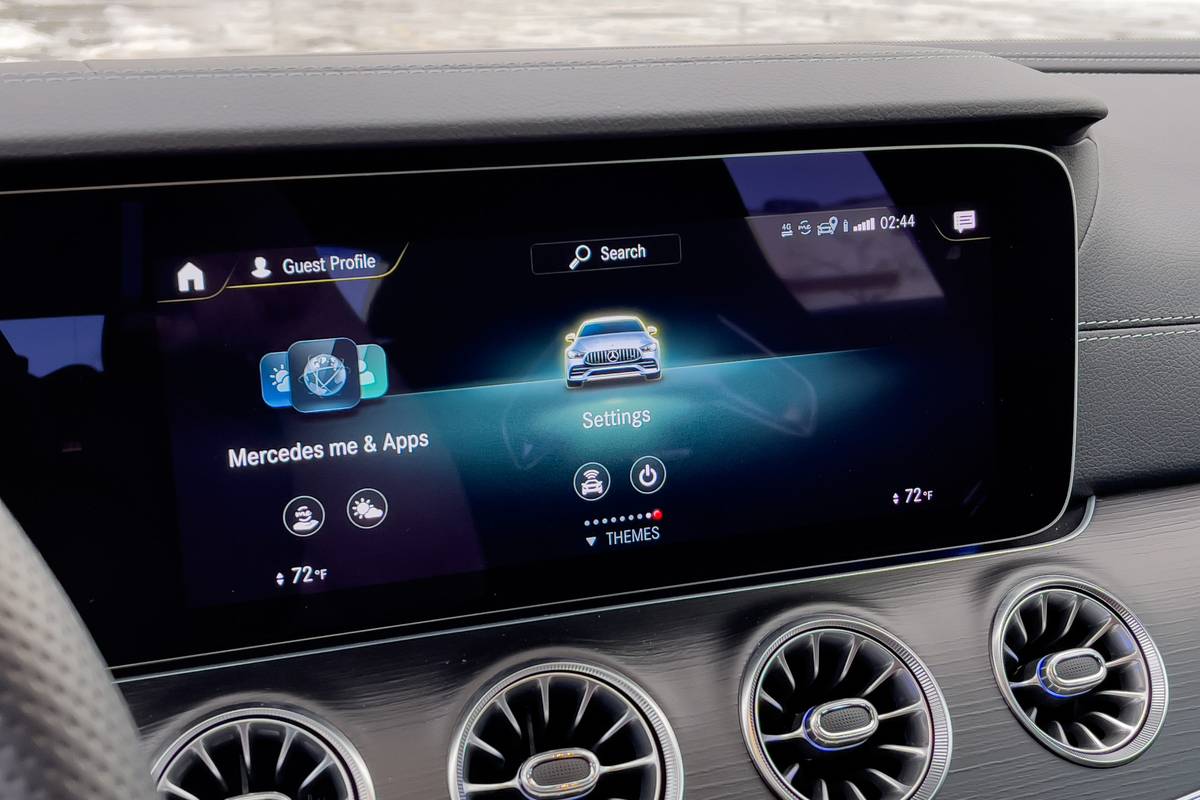 2022 Mercedes-AMG GT53 4-Door | Cars.com photo by Aaron Bragman
Like parents of young children and dog owners have to spell words like S-A-N-T-A and T-R-E-A-T, respectively, to prevent either disappointment or undue excitement, better get used to spelling out M-E-R-C-E-D-E-S when you're in this one — lest you inadvertently trigger the overeager voice-command feature by saying the car's brand name out loud. Similarly, the steering wheel's touch-sensitive controls are a touch sensitive.
6. More Is More
Get carried away with that online configurator and you could end up paying more than you bargained for. Bragman's test car topped 120 grand with options. One expects at least a couple more cylinders for that kinda cash.
Cars.com's Editorial department is your source for automotive news and reviews. In line with Cars.com's long-standing ethics policy, editors and reviewers don't accept gifts or free trips from automakers. The Editorial department is independent of Cars.com's advertising, sales and sponsored content departments.